Best Shopify apps in 2019
By Lucid Softech IT Solutions | Shopify,
08 May

2019
Being a Shopify expert, team Lucid Softech received lots of queries from customers like, what is the best app in Shopify in 2019? What are the latest and trendy apps in Shopify in 2019?
So this particular blog is all about best Shopify apps 2019 that will make your Shopify store powerful.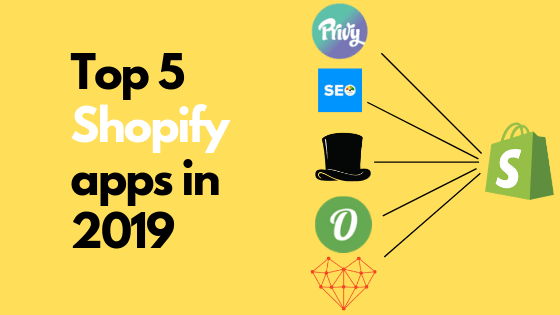 a) Privy: The first app which comes in our mind is "Privy". This app is basically to reach your audience, engage customers, and you can convert your visitors into your customers. This is a very powerful app which provides various options including spin wheel, custom pop-ups, bulk coupon code, free shipping bars, automated recovery email and complete automation tool. This app provides its free version as well and after that there are 3 plans available which are $24, $79 and $299.
b) SEO Expert Pro: If you are looking one app for your complete SEO need then "SEO Expert" app of Shopify will be a good option. It starts with a free plan and its pro plan is of $19.99 per month. This app will allow you to scan your all pages, will suggest you issues in on page and you can fix them easily with app. Besides this it give you option to optimize images in bulk, manage Meta details, speed test and much more.
c) Rewards and Referrals: Referral and rewards are one of the most important factors and usually customers like to purchase if a friend referred any products. Shopify provides a perfect app for this feature which is "Rewards and Referrals". It gives you full control on creating referral programs, setting up customer loyalty, rewards programs. It works with small businesses to enterprise level businesses. It has a free plan available and besides that you can get advance options in its Silver ($29) and Gold ($249) plans.
d) Outfy: Social Media Promotion: If you are looking to boost your traffic, want to increase your social reach then "Outfy ‑ Social Media Promotion" is the best Shopify app for you. This app will allow you to promote your products on all major social media platforms, automate your posts, creates product collage and much more. They have dynamic pricing available.
e) Urgency, Social Proof & Timers: This app will give a unique feeling to your store and you can manage notifications, countdown timers, recent visited customers etc. So if you are looking to increase customer engagement, want to add social proof then "Urgency, Social Proof & Timers" Shopify app is just for you. It gives 30 days trial so that you can review the app, configurations. Besides this you can choose any plan starting from $9, $29 and $99 per month.
Contact Us Now For No Obligation Quote