6 must have Drupal 8 modules for your news, media and entertainment website.
By Lucid Softech IT Solutions | Drupal, Drupal 8,
31 May

2019
There is no doubt that Drupal is one of the best choice for media, news management websites and due to its flexibility and dynamic options you can control important sections like image, videos, authorization etc for your news website.
In this blog we are going to share few modules which are useful for News, Media and Entertainment kind of websites.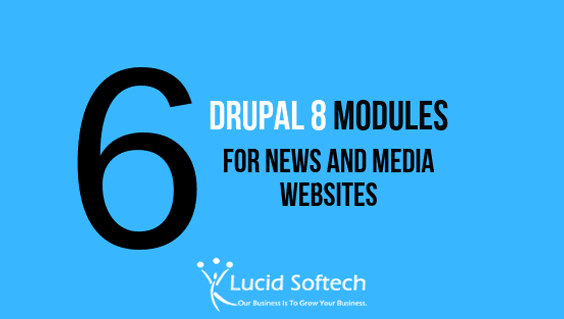 a) Display Suite: This is a powerful module which will gives you full control over how your display should look like. It gives drag n drop options for managing your contents. So if you are looking for dynamic layouts for news website, want to mange content position and display quickly then Display suit is a best option for you.
b) Workbench: An important module from which you can manage your users, roles, permissions and their contents. In News and media websites usually various type of roll are required for content posting i.e. Editor, Authors, and Publishers etc. So this module will be the best option because with this module you can set roles, permissions for each user and can define which user will do what operations. And every can see their dashboard, their contents and status of contents.
c) ShareThis: Its well known module In Drupal which allow you to integrate social sharing options in your website. Social sharing is very important factor for News and media websites as customers want to share the news, images and videos. So this module is complete package for sharing option. You can use this module and customize it as per your content need. You can specify which node should have share option and which don't need.
d) Colorbox: This is a light weighted plug-in for jquery from which all the images, iframes and contents etc can be display in popup. It works well with customized views and can be customized easily. So to display images in articles and nodes this module will be helpful and will make the article attractive.
e) Video Embed field: We all know that YouTube, Vimeo videos for any articles are playing important role for news and media websites and this module will make your job easy. You can use this module to post YouTube, Vimeo video content in your website and can manage sizes as well. You can easily embed videos in your contents.
f) Metatag: For a SEO optimized website you need to have a proper Meta details on your contents and pages. This module will help you to control Meta tags and other details as per need. It supports multilingual module and entities and also you can dynamically show the Meta details for website.
So above mentioned are some modules from which you will be able to control your content, images, permission and can manage the website in better way. Drupal has very detailed options available for media, news and entertainment websites and its dynamic modules will help you to make your website attractive and optimized. Still if you have any queries related to your media website, just reach out to us at contact@lucidsoftech.com and our Drupal experts will help you in best possible ways.
Contact Us Now For No Obligation Quote